<!Navigation Section Begins> <!Navigation Section Ends>
HISTORY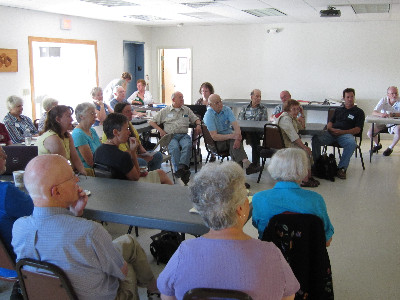 The OLD BROAD BAY FAMILY HISTORY ASSOCIATION was started in the summer of 1992. We began as a small group of people who were interested in learning more about our ancestors and how they came to be in Broad Bay. The effort was introduced by W. W. "Will" Whitaker in his newsletter "Old Broad Bay - Bund und Blat" that he started in January of 1992. He was attempting to document this unique event - the settling of Broad Bay - roughly 250 years after the fact.

The first project of our group was to start a registry, the Broad Bay Family Registry, through which people could contact others interested in Waldoboro's history and early families. Its second project was to organize some family history activities to take place in conjunction with the August 1, 1993, annual Sunday afternoon service at the historic Old German Meeting House Church in Waldoboro, Maine, where many of our ancestors worshipped.
We continue to meet each year over the first weekend in August to exchange genealogical information, learn about local history, and plan work in the communities of the Broad Bay area that will perpetuate the memory of those Individuals who came to this place and prospered or perished.

We welcome all those who are interested in learning more about this group to write us and we will gladly try to answer any questions you might have. To obtain back copies of the newsletter contact the newsletter editor listed on the Contacts page. An index of back copies as well as pdf copies of many issues are posted on the Explore/Publications page.